GTN selected again as one of Minnesota's 100 Best Companies to Work For!
(Minneapolis, MN) April 4, 2018 – GTN is honored to be named one of the 2018 100 Best Companies to Work For by Minnesota Business Magazine for the second year in a row. This award recognizes Minnesota's top companies. The "100 Best" were determined by the resulting scores of an anonymous online questionnaire filled out by the employees of each participating company to determine which companies in Minnesota excel in the areas of work environment, employee benefits, and overall employee happiness.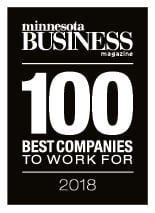 "To be recognized again as one of the 100 Best Companies to Work For, for the second year in a row is a tremendous honor," says Craig Dexheimer, Chief Operating Officer / Data Privacy & Security Officer for GTN. "We continually strive to create a culture that is energized, balanced, and flexible for our employees. Providing white glove service to our clients begins with our remarkable team members who strive each day to be the best they can be."
Minnesota Business will be hosting a celebration of the winners on June 28, 2018, at the JW Marriott Minneapolis Mall of America. To see the list of winners, register to attend the celebration, and for more information about the 2018 100 Best Companies to Work For Awards, click here.
About GTN
GTN is a tax services firm focusing exclusively on mobility tax consulting and compliance. Founded in 2000, GTN helps mobility program managers and mobile employees navigate tax situations and manage risks. Their scope includes providing support for expatriates, foreign nationals, business travelers (both international and domestic), and permanent transfers. GTN is the recipient of several industry awards for excellence, including the When Work Works award for Innovative and Effective Workplace Practices as well as Accounting Today's Best Accounting Firms to Work For. GTN is headquartered in Maple Grove, MN, with regional offices in California, Colorado, Illinois, New York, Pennsylvania, and Texas. For more information, please visit us at gtn.com.
Contact:
Jen Frentz, Senior Marketing Coordinator
+1 (763) 252-0646
jfrentz@gtn.com


# # #