A recognition for a commitment to ethics and integrity in every aspect of business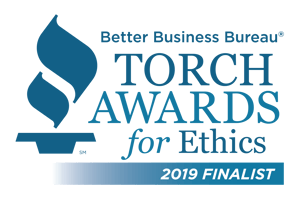 (Minneapolis, MN) October 15, 2019 – Better Business Bureau® of Minnesota and North Dakota (BBB) announced its finalists for the 2019 BBB Torch Awards for Ethics. Global Tax Network (GTN) was named among the list of 10 finalists for this year's award.
Each year, this prestigious award recognizes outstanding area businesses that demonstrate a strong commitment to ethics and integrity in every aspect of their day-to-day operations and interactions with customers and employees. It is open to all for-profit businesses in Minnesota and North Dakota, who are in good standing with BBB. Following a nomination, each company is asked to demonstrate their commitment to ethics by addressing the following six Principles of TRUST!, as established by BBB:
Transformation at the Top
Reinforce and Build
Unite the Team
Steer Performance
Treasure People
Enthusiastically Reinvest
With a goal of improving the quality of client service in the world of mobility tax, GTN was built based on a company culture that was not only focused on the client, but also on strong core values. They continue to fulfill this mission by providing their clients with quality, personalized, and proactive guidance that simplifies global mobility programs so clients remain compliant with global tax authorities. Given the personal nature surrounding mobility tax services, GTN's guiding principles and core values ensure their clients remain confident and secure, and this is one of the primary factors behind why they have been recognized as a finalist for the 2019 Torch Awards for Ethics.
David Kolb, President of GTN is honored to be recognized for GTN's commitment to integrity and ethics. He says, "Ethics and integrity are at the forefront of who we are and what we do at GTN, and will continue to be as we grow and evolve as a firm. One of the great responsibilities and rewards of leading a professional services firm is the opportunity to assemble the team, set the cultural tone, and help create the professional environment that will do the right thing for our clients and employees. To me, being a finalist for this award is not only recognizing GTN for our culture and values, but reaffirms that we as a company can make a positive impact in the lives of the people and organizations we serve."
BBB received nearly 600 nominations for businesses in Minnesota and North Dakota. The 2019 BBB Torch Awards finalists are:
Global Tax Network
Super Siders
Great Northern Builders, LLC
North Star Resource Group
Media Relations Agency
The UPS Store Eagan
Stonebridge Capital Advisors
IC System
Maud Borup/eco eggs
Enclave Companies
The winners will be revealed during an awards ceremony at Radisson Blu, Mall of America, on Wednesday, November 20. The Honorable Alan Page, retired Minnesota Supreme Court Justice and pro-football Hall of Famer, will be the keynote speaker of the event.
BBB presents the Torch Awards for Ethics annually to several for-profit businesses located within the Minnesota and North Dakota region. Eligible businesses are offered the opportunity to submit an entry to BBB, where a panel of independent volunteer business and community leaders select the winners. Nominees must be in good standing with BBB; however, BBB Accreditation is not a requirement to compete.
About GTN
GTN is a tax services firm focusing exclusively on mobility tax consulting and compliance. Founded in 2000, GTN helps mobility program managers and mobile employees navigate tax situations and manage risks. Their scope includes providing support for expatriates, foreign nationals, business travelers (both international and domestic), and permanent transfers. GTN is the recipient of several industry awards for excellence, including the When Work Works award for Innovative and Effective Workplace Practices as well as Accounting Today's Best Accounting Firms to Work For. GTN is headquartered in Maple Grove, MN, with regional offices in California, Colorado, Illinois, New York, Pennsylvania, and Texas. For more information, please visit us at gtn.com.
Contact:
Jen Frentz, Senior Marketing Coordinator
+1 (763) 252-0646
jfrentz@gtn.com


# # #