GTN's 5-year tradition elevates involvement and impact
March 20, 2018 – Global Tax Network (GTN) announced the launch of their fifth annual Beards and Braids for Busy Season (BBFBS) campaign to help raise awareness and monetary support for the No Kid Hungry® campaign, while making the tax busy season more fun.
For 5 years, the GTN BBFBS campaign has increased awareness and support for nonprofit organizations such as the Kibera Girls' Soccer Academy, Canines for Disabled Kids, and The Grameen Foundation. For this year's campaign, GTN is partnering with the Share Our Strength and their No Kid Hungry® campaign (https://www.nokidhungry.org/)--a nonprofit working to solve problems of hunger and poverty in the United States and around the world.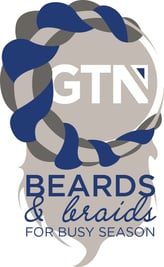 "1 in 6 kids in America struggle with hunger. In the world's wealthiest nation, no child should go hungry. We have the power to make a difference. Every $10 raised can connect a child with up to 10 healthy meals," says Jessica Bomberg, Senior Manager of Peer-to-Peer Fundraising for No Kid Hungry®. "We are honored to be chosen for the BBFBS campaign this year."
Since competition is part of GTN's nature, this year the firm added an internal challenge by dividing into 5 teams representing the 5 regions of the company. The increased banter and frequent high-5's will infuse the energy necessary to reach their goal and impact No Kid Hungry® in a meaningful way. So what does beards and braids have to do with it all… it's just good fun.
"When we started the BBFBS campaign, it did not include a charitable element," says Kristie Moon, Manager for GTN West Central. "I have watched the involvement and enthusiasm of the campaign increase since we added the opportunity to impact a non-profit which shows it is always more fun to rally around a cause!"
This year's campaign will run through April 17, 2018, to coincide with the Internal Revenue Service's tax filing deadline in the United States. All GTN employees, families, and friends of the firm are encouraged to participate in this event by growing their beard or braiding their hair while raising awareness and funds for No Kid Hungry®.
If you would like to make a donation to support the No Kid Hungry® campaign, please visit http://join.nokidhungry.org/goto/GTN_BBFBS. Your donation to this campaign will help to find the best approaches to eradicating poverty and hunger.
You can follow the BBFBS initiative on Twitter: @GTN_US #BBFBS #BeardsandBraids #TaxBusySeasonIsFun #GTNevents and post your own beards and braids on Instagram: gtn_us #BBFBS #BeardsandBraids #TaxBusySeasonIsFun #GTNevents.
About GTN
GTN is a tax services firm focusing exclusively on mobility tax consulting and compliance. Founded in 2000, GTN helps mobility program managers and mobile employees navigate tax situations and manage risks. Their scope includes providing support for expatriates, foreign nationals, business travelers (both international and domestic), and permanent transfers. GTN is the recipient of several industry awards for excellence, including the When Work Works award for Innovative and Effective Workplace Practices as well as Accounting Today's Best Accounting Firms to Work For. GTN is headquartered in Maple Grove, MN, with regional offices in California, Colorado, Illinois, New York, Pennsylvania, and Texas. For more information, please visit us at gtn.com.
Contact:
Jen Frentz, Senior Marketing Coordinator
+1 (763) 252-0646
jfrentz@gtn.com


# # #