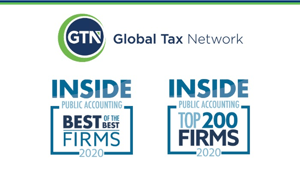 MINNEAPOLIS, MN, September 16, 2020 -- Inside Public Accounting (IPA) has once again named Global Tax Network (GTN) a Best of the Best Firms for 2020. The firm was also named one of the Top 200 Firms based on revenue, a unique feat for a specialist firm whose entire focus is providing mobility tax consulting and compliance services. Recipients of these distinguished awards are highlighted in the September 2020 issue of IPA's monthly newsletter.
540 firms across the nation participated in the IPA Survey and Analysis of Firms, which is used to compile the annual rankings of firms. From the survey, IPA used over 50 metrics to calculate and rank the 50 Best of the Best Firms, selected exclusively on their performance in specific areas of management, growth, and strategic vision. These Best of the Best Firms are considered some of the highest-performing public accounting firms in the country.

"We are truly honored to once again be recognized as one of the top 50 Best of the Best Firms, and a Top 200 Firm based on revenue," said David Kolb, President of GTN. "These awards are a testament to our fantastic team who continuously demonstrate their dedication to our clients, partner vendors, and each other. GTN's 20 years of growth, resulting in awards such as these, have only been possible by having a team that, day-in and day-out, goes above and beyond."

IPA is a highly regarded independent publication that produces one of the most comprehensive benchmarking reports in the industry. The surveys and corresponding reports provide a more in-depth analysis of a firm's overall operations and a deeper look into the best practices of hundreds of accounting firms. The benchmarking reports prove to be an invaluable tool utilized by firms across the US as a way to improve and enhance the way they do business.
"Best of the Best firms represent the top performers of their peer group, which is an exceptional accomplishment in the competitive world of public accounting. They excel by leaning in to help clients, being proactive, and seeking solutions – not just selling services," says Michael Platt, principal of the Platt Group and publisher of the accounting trade publication, INSIDE Public Accounting. "And while most firms can boast 'having good people,' one hallmark that is common across Best of the Best firms is their ability to leverage their team and create employee opportunities by building a work environment that team members are excited about and proud to work for."
For more information about these awards or IPA, please visit http://insidepublicaccounting.com/newsletters/ipa-100-ipa-200-ipa-300/

About GTN: GTN is a tax services firm focusing exclusively on mobility tax consulting and compliance. Founded in 2000, GTN helps mobility program managers and mobile employees navigate tax situations and manage risks. Their scope includes providing support for expatriates, foreign nationals, business travelers (both international and domestic), and permanent transfers. GTN is the recipient of several industry awards for excellence, including the When Work Works award for Innovative and Effective Workplace Practices as well as one of Accounting Today's Best Accounting Firms to Work For. GTN is headquartered in Minneapolis, MN, with regional headquarters offices in California, Illinois, New York, and Texas. For more information, please visit us at gtn.com.

Contact:
Jen Frentz, Marketing Manager
+1 (763) 252-0646
jfrentz@gtn.com
# # #