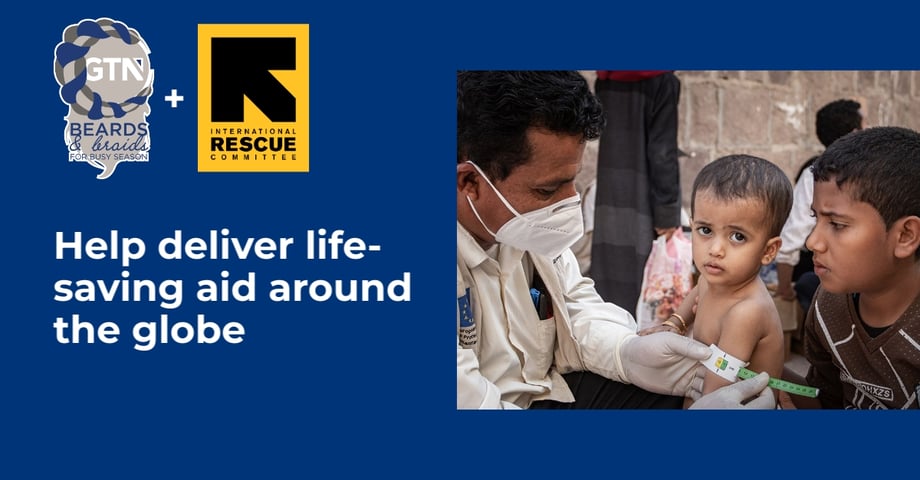 Our 10th annual Beards and Braids for Busy Season (BBFBS) campaign has begun!
Ten years ago, what began as a simple way to infuse some fun into the tax busy season has turned into an annual event to provide support for non-profit organizations around the world. To date, we have raised over $36,000 for nonprofit organizations such as AdoptAClassroom.org, Canines for Disabled Kids, Move For Hunger, and No Kid Hungry.

This year, GTN is partnering with the International Rescue Committee (IRC), a nongovernmental humanitarian organization whose essential work is to help people whose lives and livelihoods are shattered by conflict and disaster to survive, recover, and gain control over their future. The IRC responds to some of the world's worst crises to deliver aid and pave the way for long-term recovery.
With Turkey hosting the largest refugee population in the world, the devastating earthquakes that hit the Turkey-Syria border in February 2023 greatly impacted an already vulnerable population as millions lost their families, loved ones, and homes. Those hardest hit by the earthquakes remain without adequate shelter, food, and basic necessities as temperatures have plunged well below freezing.
Your gift will help the IRC provide emergency services to families in Turkey, Syria, and other countries affected by humanitarian crises around the world. Working tirelessly, the IRC has continued to launch integrated responses to support impacted communities as humanitarian needs soar.
100% of the funds raised through GTN's 10th annual BBFBS campaign will go towards supporting the IRC and the global communities they serve.
Thank you to those who have supported our BBFBS campaigns in the past. With your continued generosity, we can do even more!
The 2023 BBFBS campaign will run through April 18, 2023, to coincide with the Internal Revenue Service's tax filing deadline in the United States. All GTN employees, families, and friends are encouraged to participate by growing their beards, braiding their hair, and raising awareness and funds for communities in need of emergency aid. If you would like to donate in support of our 10th annual BBFBS campaign and the IRC, please visit https://tiltify.com/@global-tax-network/gtns-10th-annual-bbfbs-campaign.