GTN's sixth annual Beards and Braids for Busy Season (BBFBS) campaign is up and running!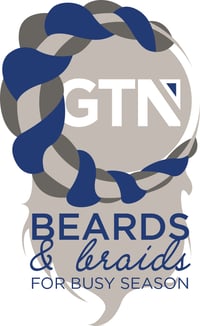 With our BBFBS campaign this year, we are once again helping raise awareness and monetary support for No Kid Hungry®, a fantastic initiative that we supported last year as well. Share Our Strength and their No Kid Hungry® campaign is a nonprofit working to solve problems of hunger and poverty in the United States and around the world.
"1 in 6 kids in America struggle with hunger. In the world's wealthiest nation, no child should go hungry. We have the power to make a difference. Every $10 raised can connect a child with up to 100 healthy meals," says Jessica Kern, Associate Peer-to-Peer Fundraising for Share Our Strength. "We are excited to once again partner with GTN for their BBFBS campaign."
Last year, the BBFBS campaign raised $5,440. With the help of our supporters, we were able to provide 544 kids with 100 healthy meals! And we hope to make an even bigger impact this year!
Funds raised through BBFBS support the No Kid Hungry® campaign to end childhood hunger in America. Nationally, the campaign provides leadership, raises awareness, and advocates for change that will make sure no kid in America ever goes hungry. No Kid Hungry® funds the most effective anti-hunger organizations and builds partnerships that bring together public officials, nonprofits, community groups, private funders, and businesses to end childhood hunger in a particular state or city.
This year's BBFBS event runs through April 15, 2019, to coincide with the Internal Revenue Service's tax filing deadline in the United States. All GTN employees, families, and friends of the firm are encouraged to participate in this event by growing their beards, braiding their hair, and raising awareness and funds for children in need.
If you would like to make a donation to support the No Kid Hungry® campaign, please visit http://join.nokidhungry.org/goto/GTN_BBFBS. Your donation to this campaign will help fund the best approaches to eradicating poverty and hunger. Don't forget to tell your family and friends!
Follow the BBFBS initiative on Twitter: @GTN_US #BBFBS #BeardsandBraids #TaxBusySeasonIsFun #GTNevents and post your own beards and braids on Instagram: gtn_us #BBFBS #BeardsandBraids #TaxBusySeasonIsFun #GTNevents.
For more information about GTN, visit gtn.com.