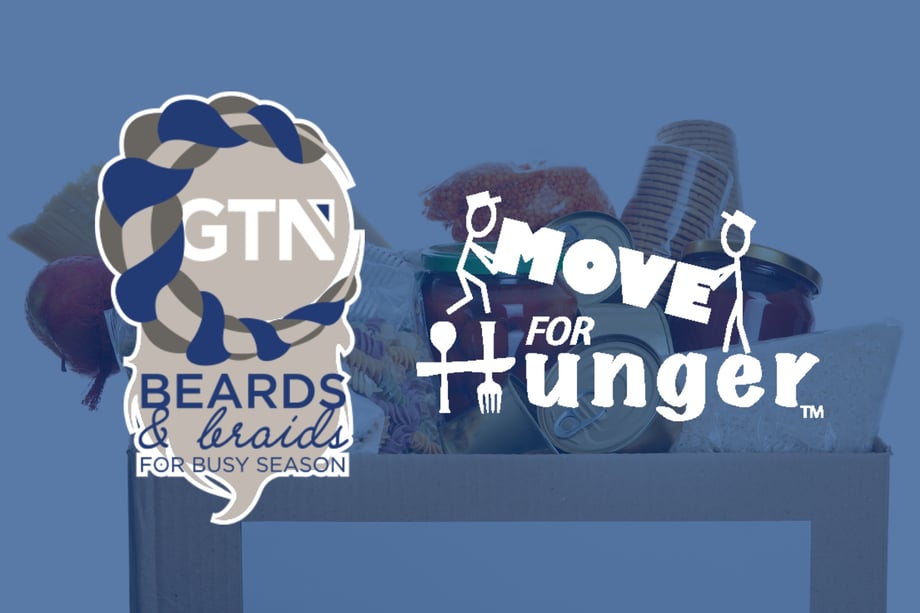 Our annual Beards and Braids for Busy Season (BBFBS) begins now! In the campaign's ninth year, GTN is once again partnering with Move For Hunger, a national non-profit organization that has created a sustainable way to reduce food waste and fight hunger. Our 2022 BBFBS campaign strives to make an impact on the growing hunger crisis as millions of Americans face food insecurity every day. This will be GTN's second year partnering with Move For Hunger and our goal is to surpass last year. With your help in 2021, the BBFBS campaign was among Move For Hunger's top 10 fundraisers providing 16,277 meals to those in need! We are very excited about this year's campaign and the continued role we can play in helping the Move For Hunger cause.

So, what does Move For Hunger do? The short answer is "a lot!" They have pulled together a network of socially responsible relocation companies to provide their customers, clients, and community the opportunity to donate their food when they move. Members of Move For Hunger also organize community food drives, participate in awareness campaigns, and create employee engagement programs. Since 2009, Move For Hunger has delivered nearly 26 million pounds of food to food banks across the US and Canada.
"While it appears that the Covid-19 pandemic may finally be starting to turn to an endemic state, we would be remiss to think that along with this change, the effects that the pandemic has brought over the last two years would also disappear with it. In fact, we will be battling the effects for a very long time," says Margo Cianchetta, Senior Director of Development & Partnerships at Move For Hunger. "In the United States, more than 38 million people, including 12 million children, are considered food insecure, meaning they do not know where their next meal is coming from. Move For Hunger continues to provide an opportunity for people moving to donate their food to help support their local neighbors in need, instead of allowing it to go to waste. With 35 million Americans moving every single year, if we recovered just 1 pound of food from each of them, we would be able to provide 29 million meals to people across the country. Thanks to supporters and friends at GTN, you continue to allow us to do our work to help support our food bank and pantry partners. Last year's event alone provided more than 16,200 meals to individuals in need. We are truly grateful to everyone at GTN for their continued generosity."
Nine years ago, what began as a simple way to infuse some fun into the tax busy season has turned into an annual event to provide support for non-profit organizations around the world. To date, we have raised over $30,000 for nonprofit organizations such as AdoptAClassroom.org, No Kid Hungry, and Canines for Disabled Kids. Thank you to those who supported these very worthy causes in the past. With your continued support, we can do even more.

100% of the funds raised through GTN's 2022 BBFBS campaign will go towards supporting Move For Hunger and the communities they serve. Food is a fundamental human right and everyone should have access to enough nutritious food to support a happy healthy life. One easy way you can help is by supporting Move For Hunger and their goal to sustainably reduce food waste and fight hunger through mobilization of the relocation industry.
The 2022 BBFBS campaign will run through April 18, 2022, to coincide with the US Internal Revenue Service's tax filing deadline. All GTN employees, families, and friends of the firm are encouraged to participate by growing their beards, braiding their hair, and raising awareness and funds for the families and communities in need. If you would like to donate in support of the BBFBS campaign and Move For Hunger, please visit http://moveforhunger.org/gtn2022.

Please follow the 2022 BBFBS initiative on Twitter: @GTN_US #BBFBS #BeardsandBraids #TaxBusySeasonIsFun #GTNevents and post your own beards and braids pics. Don't forget to share with your family and friends!