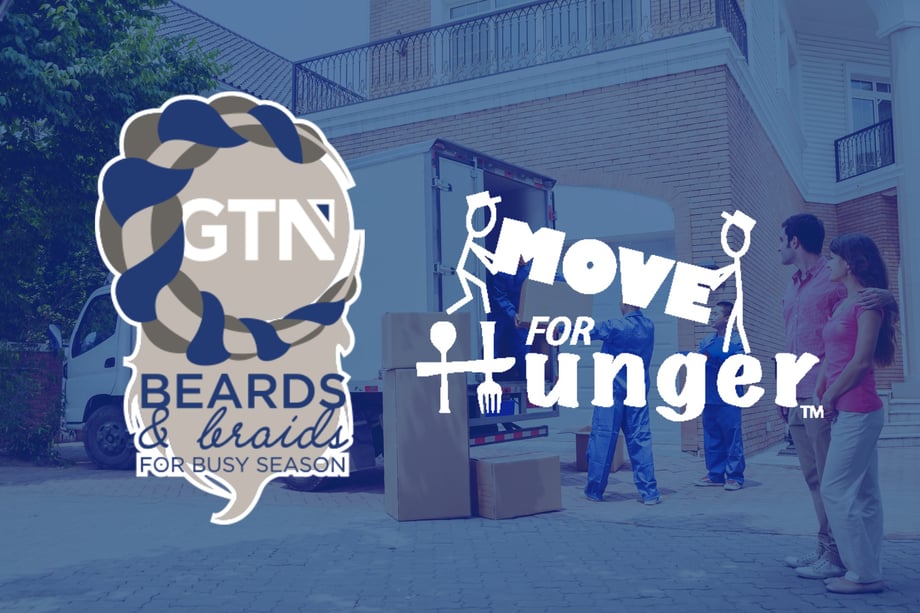 Our annual Beards and Braids for Busy Season begins now! In the campaign's eighth year, GTN is partnering with Move For Hunger, a national non-profit organization that has created a sustainable way to reduce food waste and fight hunger. Our 2021 Beards and Braids for Busy Season (BBFBS) campaign is striving to make an impact on the growing hunger crises that is affecting so many people due to COVID and its impact on global economies. We are very excited about the role we can play in helping the Move For Hunger cause.
So, what does Move For Hunger do? The short answer is "a lot!" They have pulled together a network of socially-responsible relocation companies to provide their customers, clients, and residents with the opportunity to donate their food when they move. Members of Move For Hunger also organize community food drives, participate in awareness campaigns, and create employee engagement programs. Since 2009, Move For Hunger has delivered over 21.5 million pounds of food to food banks across the US and Canada.
"More than 50 million Americans face hunger every day including 1 in 4 kids," says Kara Sendell, Partner Engagement & Development Manager for Move For Hunger. "By providing people with the opportunity to donate their food when they move, we believe we can eliminate food waste during the relocation process. 35 million Americans move every single year and if we recovered just 1 pound of food from each of them, we'd be able to provide 29 million meals to people across the country."
Eight years ago, what began as a simple way to infuse some fun into tax busy season has turned into an annual event to increase awareness and provide support for non-profit organizations around the world. To date, we have been able to raise over $23,000 for nonprofit organizations such as AdoptAClassroom.org, No Kid Hungry, and Canines for Disabled Kids. With your support, we can do even more. One way to help is by supporting Move For Hunger with their goal to mobilize the relocation industry to sustainably reduce food waste and fight hunger.
All funds raised through GTN's 2021 BBFBS campaign go to support Move For Hunger and the families and communities they serve. Food is a fundamental human right and Move For Hunger and GTN believe that everyone should have access to enough nutritious food to support a happy healthy life.
The BBFBS campaign will run through April 15, 2021, to coincide with the Internal Revenue Service's tax filing deadline in the United States. All GTN employees, families, and friends of the firm are encouraged to participate by growing their beards, braiding their hair, and raising awareness and funds for the families and communities in need. If you would like to make a donation to support the BBFBS campaign and Move For Hunger, please visit https://give.classy.org/GTNFightsHunger.
Please follow the BBFBS initiative on Twitter: @GTN_US #BBFBS #BeardsandBraids #TaxBusySeasonIsFun #GTNevents and post your own beards and braids pics; and don't forget to tell your family and friends!