As remote work requests continue to roll in and the future of work is one that embraces a mobile workforce, C-suite executives are pushing to offer remote work as a valuable incentive to retain and attract talent. While a drive to offer this employee incentive has already realized advantages for companies, it has also come with many challenges and compliance requirements that still need to be addressed.

To assist with solving these challenges, mobility program managers often turn to their external vendors for various technologies and solutions that can both mitigate risks and manage compliance requirements for the company and employees. However, selling these solutions internally is often just one more challenge a mobility program manager may need to overcome. While leadership teams and other internal stakeholders may understand the need for remote workers and business travelers, implementing a remote work and business travel solution is not always at the top of the budget allocation list. So how can you build a business case to sell this much-needed service internally?
It will come down to your ability to understand and communicate not only the risks associated with employing individuals in different jurisdictions, but how policies, processes, and technology can manage those risks to save the company from unnecessary costs.
Understanding the challenges remote workers and business travelers are creating for your company
First, remote workers and business travelers create both corporate and employee risks, often without anyone knowing about them. It is imperative to understand what these challenges are as the risks may impact a company's ability to operate successfully and grow the business. Yet tackling the risks can be difficult because of the complexities that often arise. Here, mobility program managers may need to determine how to:
Track increasing volumes of remote work and business traveler scenarios that may involve new locations or situations.

Understand complex and evolving rules for tax, immigration, and other legal purposes.

Overcome a lack of internal resources and bandwidth to appropriately manage organizational risk and employee duty of care responsibilities.

Develop and manage new policies to address changing business and talent management needs.

Communicate risks and information requirements to business units and their mobile employees.
As you look to implement a solution, a critical first step is to fully understand the risks. For example, identifying and managing hidden payroll tax requirements often presents one of the biggest compliance challenges for companies with remote workers. Payroll compliance can be particularly complicated due to:
Inconsistent payroll reporting rules among different countries and even between different US cities and states.
Corporate payroll structures that may not support multi-jurisdictional reporting and withholding.
Lack of information on where employees are living and working.
Failure to handle reporting can lead to costly audits, including financial penalties for the company and/or employee. Ultimately, when you are not staffed to create a proper policy and framework for your mobile workforce, it may lead to many potentially costly risks.
Compensation: How are you collecting compensation data? Is this inclusive of equity/deferred compensation data?
Corporate Law: Is your workforce creating a corporate presence and registration requirement in any jurisdiction? Have you assessed Permanent Establishment risks? Are you considering other cost saving opportunities such as where you book deductions, VAT refunds, etc.?
Emergency Risk: Are you thinking about what to do in the event of an emergency and do you know where your employees are located? What contingencies do you have in place?
Employment Law: Are there employment law considerations for your mobile employees?
Immigration: Have you considered the work visa/permit requirements for each employee who may be outside of their Home jurisdiction?
Income Tax: Are you compliant? Have you reviewed tax positions to optimize cost and looked at double tax treaty benefits? Who is responsible for chasing refunds and reimbursements?
Payroll: Do you have the expertise to run an international payroll? Are payroll services aligned with tracking, policy, and actions? Are the individuals that sign off on a specific country payroll confident that it is accurate for global, federal, and state reporting?
Regulatory Requirements: Does your business require regulatory registration/reporting in the country your business travelers are working in?
Social Security: Are you compliant? Have planning opportunities been optimized?
As you can see, there are many questions that need to be considered as you look to build a policy. Your external mobility vendors such as your mobility tax provider, relocation management company, and immigration firm are well versed in remote workforce scenarios. These providers are an excellent resource and can help guide you through these considerations—lean on them to help you develop policies that will work for your program, your company, and your remote employees.
Building the business case for remote work and business travel services
In 2021, GTN conducted a business travel survey of 169 organizations representing a wide range of industries, headquarter locations, and remote work/business travel population sizes. Out of the companies surveyed, 72% said they currently have a global travel policy in place that covers international and/or domestic business travel, while 13% responded they do not have a global travel policy at all. Yet, within the 72% of companies that reported having a global travel policy in place, only 31% are utilizing a method to track their business travel population.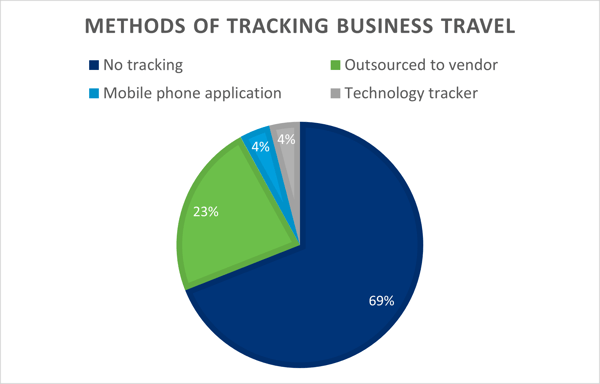 We have worked with numerous companies looking to implement a remote workforce solution, and the pain points often share a common theme:
Where do we start?
How much is it going to cost?
Who internally will own the process and ensure policies and processes are maintained and followed?
How can we develop a pre-trip approval process to simplify decision-making?
How can we use data we already have to streamline this process?
The following steps will help to address these questions and develop an agenda as you look to have discussions with your company's key stakeholders and decision makers.
Determine the purpose of a remote work/business travel policy and process
Consider this case study: HR team members at a client company with a mobile employee population of 1,000 were receiving requests from employees wanting to work remotely in a location other than their Home location. These requests were coming in at increasingly high rates and there was no clear policy or process in place to dictate how these requests should be handled. In addition to managing their regular day-to-day job duties, the HR team was tasked with handling the requests with no clear plan of action.
In this scenario, the problem was twofold: the HR team had been inundated with remote work requests, and there was no policy or process in place to manage and track the requests. The first step was to work with the company to develop a policy that would take into consideration the company's purpose and requirements for a remote work program, while also recognizing employee needs. We then designed a remote work approval process that streamlined the influx of requests by utilizing automated technology.
The driving purpose for implementing a remote work or business traveler process may be different for each organization. The below questions can be helpful when identifying a company's purpose for implementing a policy:
Does the organization have timely and comprehensive knowledge of where its employees are working?
Does the organization have an interest in allowing employees to work remotely in different jurisdictions, but doesn't have the internal bandwidth to manage a population of remote workers?
Is the organization looking to minimize costs and administrative burden related to having a remote workforce, specifically allowing employees to work remotely outside of their Home location (country, state, or province)?
For example, a company may set a goal of minimizing costs and administrative burden related to having a remote workforce but would also like to allow their employees the flexibility of remote work. In this instance, the organization may implement a global remote work policy including guidelines of when remote work is acceptable along with an FAQ document to minimize questions regarding the policy. Within the policy itself, the organization may detail the remote work request process and lean on employees' managers to track the remote work locations for their own team and ensure their team is within the guidelines.
In addition, a bi-monthly or monthly (as an example) review of the population can be used to find outliers, trends that do not follow the policy, or instances where additional review or work may be required. This way, the responsibility for each remote work request is specifically placed with the requesting employee's manager and reviewed on a regular basis by the team tasked with managing this population (e.g., global mobility, compensation and benefits, HR).
Define what an ideal solution will solve for your company
The remote work challenges don't have a one-size-fits-all solution. We recently worked with a client to develop a remote work policy and process for handling their remote work requests. This client decided, given they had a smaller population of 10 mobile employees, a manual process (as opposed to a technology-driven solution) would be ideal. We worked with the client to determine their risk tolerance and their plan for allowing employees to work outside of their Home location. Using this information, we built a remote work policy (along with various process flows) to manage their remote work requests manually via Excel and email.
It is important to define what your company is looking for in a solution.
Do you need a solution that will build a policy for you?
Do you need a solution that will automate requests as they come in, or is a manual process good enough?
Do you need a solution that will take remote work requests entirely off your plate?
Once you define your ideal solve, you can begin the process of interviewing external providers, such as mobility tax firms, who can provide the solution or solutions you need. This could be a provider who will help you build and communicate your policy and processes, a technology platform that automates a review and approval process, or a provider who handles everything related to your mobile workforce needs.
Understand and communicate the risks that need to be considered
Make sure you can answer and speak to these important questions:
Do you understand all the risks associated with allowing employees to work remotely?

Based on the risks, will employees be allowed to work anywhere? Or will the company put a more restrictive remote work policy in place whereby any requests to work outside of the employee's Home state or country go through a review process before taking place?

What is your company's risk tolerance when it comes to remote work/business travel?
The determination of a company's risk tolerance is important in developing the remote work policy and process. For example, we recently assisted in implementing a remote work policy for a client in which any remote work request to countries where they found "exceptional risks" (such as significant tax concerns) to be present were automatically denied. This is documented in the policy and a denied response is automatically sent to the employee who requested the work arrangement. This alleviates the need for additional review, given the company's risk tolerance for specific countries has already been built into the process.
Having access to a remote work/business travel solution can help automate processes and identify areas where risks are currently present. Understanding the risks associated with each work location as well as your company's risk tolerance is imperative as you look to build your business case for a solution to help address your specific mobility needs.

Outline how policy and process will benefit the company from a cost perspective
The potential costs involved with implementing a remote work policy and pre-travel approval process will vary depending on the size of your remote workforce. Going back to our recent survey, 42% of the 169 companies surveyed responded that their organization employs over 1,000 business travelers during any given year—and this is likely not even considering the remote worker population.
Larger mobile populations may require more upfront time spent developing policies and designing processes, but this will ultimately create more cost saving opportunities for the company as there are likely to be higher volumes of individuals requiring immigration, tax, or social security documentation. Managing a mobile employee population proactively with appropriate policies and process will create efficiencies that will reduce time spent coordinating tax, immigration, or social security compliance. Compared to managing the mobile employee population by reacting, which can lead to internal confusion, unnecessary time spent gathering details, and a subpar employee experience.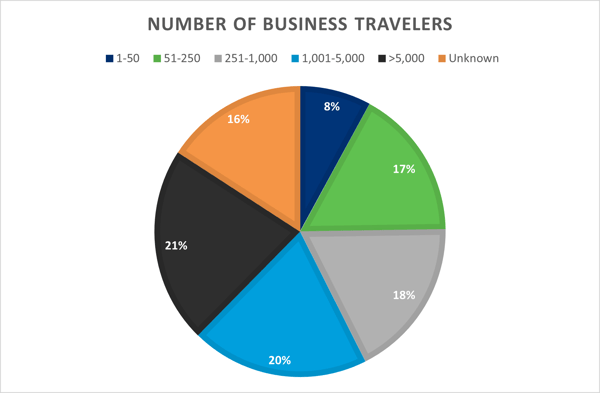 Look for a cost/benefit analysis when determining the extent to which a remote work or business travel policy and process should be implemented. If a company has (for example) one to two mobile employees, it may not be worth the money to invest in a comprehensive remote work policy and process. However, the lack of even a simplified remote work policy, regardless of the number of mobile employees, does carry some risk. Not having a policy and pre-travel review process can prove costly by way of penalties or fines for noncompliance with the appropriate tax jurisdictions. In addition, when a company does not remain compliant in a specific jurisdiction, their reputation with the local authorities may suffer. Pre-travel approval processes will assist in ensuring employees are only working in approved jurisdictions with appropriate paperwork for immigration, tax, and social security purposes.
Determine what solutions are available to help
A robust global remote work/business travel policy and pre-travel approval process may not be the ideal solution for every company. GTN works with a myriad of clients who have varying mobile population sizes—different solutions work for different companies. Defining the purpose, identifying risks, and determining your company's risk tolerance, are crucial first steps in developing any policy and process.
GTN's Whereabouts™ technology offers a way to centralize and streamline the pre-travel approval process and can be configured to fit your mobility needs. Schedule your personalized demo today.
Technology can be beneficial in automating the review process and highlighting risks the company may want to consider before approving remote work or business travel. However, there may be situations that don't require a comprehensive technology solution. For instance, you may have an internal team that will manage requests and track mobile employees on a manual basis. In a previous example, GTN assisted a company in developing an email-based pre-travel approval process where the requests and employees' travel were then tracked in an Excel file. So, there are situations where a full, comprehensive technology solution is not necessary given the size of the population and/or the ability to track the data through other means.
Determine a project manager, key stakeholders, and internal teams
Identifying a project manager who will be responsible for the implementation of the remote work policy and process will ensure the project continues moving forward. This individual will lead the process internally and will present leadership with enough information to make a sound business decision.
Once a project manager has been identified, it is important to identify the key stakeholders who will be responsible for reviewing remote work or business travel requests. Who internally will be included in the approval process, and thus responsible for approving and denying business travel or remote work requests? Key stakeholders could include compensation and benefits, corporate tax, global mobility, HR, legal, and travel managers. Our Business Traveler Risks tip sheet can help you decide who within your organization should be included and able to assist.
Once you have identified the project manager and key stakeholders, you will need to train these individuals on the policy, process, and technology. This will streamline the implementation by ensuring everyone involved is familiar with their responsibilities.
In our survey of 169 companies, 50% of companies responded that their Global Mobility department is one of the key stakeholders in managing their mobile population including employee and requirements tracking.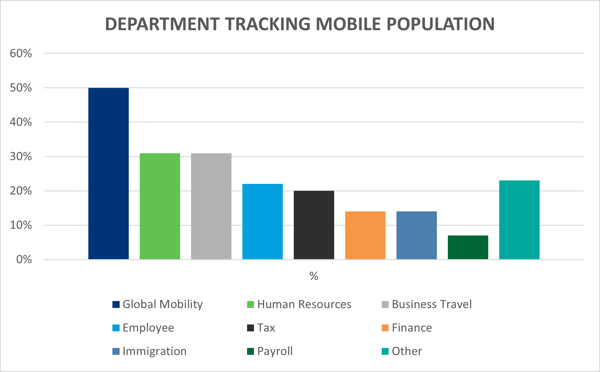 According to the survey results, a company's global mobility team typically takes a lead role in implementing a remote work/business travel policy and process. However, many companies don't have a dedicated global mobility team, so this large undertaking is added to the workload of the HR or compensation and benefits teams who may have little knowledge of the requirements in this area.
When the remote work responsibility falls to one person who serves other functions within the company and who is then pulled in several directions, risks and stress ensues. They don't have the time or resources to consider all the obligations necessary when employees are working in multiple jurisdictions. In addition, they may be unfamiliar with international relocations and the potential tax, immigration, payroll, or PE risks that may result from remote work and/or business travel. To help alleviate this, having internal teams working together to implement and manage your remote work policy and process is imperative to the success of the solution.
Develop and manage a budget
Managing a mobile population using pre-travel approvals can assist in ensuring any company obligations, such as income tax withholding, social security tax withholding, or certificates of coverage, are discovered before the travel takes place. This ensures any required actions, such as immigration documentation needs, can be taken proactively. A budget for remote work and business travel compliance should be created so you can easily manage and understand the costs. This could also help you achieve cost savings by capturing and completing any actions required from the arrangement or trip in advance, as opposed to completing these actions after the travel has taken place, when penalties or fines may be incurred.
Make sure you have a budget allocated to mobile employees. To keep it simple, break the budget down into different phases:
Policy and process development
Technology configuration and use
Regular (monthly, quarterly, semiannually) review of your mobile population
Downstream services that result from the travel (e.g., certificates of coverage, tax return preparation)
Having a set budget and clear expectations for what you can spend will be helpful to get the ball rolling when proposing a solution to your internal teams.

Another important element of business travel is company and/or individual obligations that arise from an internal cross-charge policy. When costs related to an employee are charged from the employee's Home jurisdiction entity to the Host jurisdiction entity, there may be additional requirements that didn't exist should the cross-charge not take place.
Manage the change internally through clear and meaningful communication
Change can be difficult to manage within an organization. Generally, it will take some time for the new remote work policy and process to be accepted internally and become the "norm." Creating a smoother transition through clear communication can alleviate some of the pushback that may be initially received as the process is rolled out. Providing training to employees impacted by the change can help eliminate confusion and provide comfort for affected employees. It is important to consistently communicate and set realistic expectations surrounding travel and set an appropriate understanding of the policy.
Remote workforces are the future of mobility
It is important to familiarize yourself with the risks associated with having employees working in different jurisdictions and understand how policies and processes can help to manage those risks. Implementing any new company policy or process has its challenges, but these challenges can be conquered with appropriate planning, communication, and proactive management.
One last question you may be asking yourself: Is now the best time to implement a policy and process of this magnitude? The short answer is "yes." Remote work doesn't appear to be something that will fade away and should be at the forefront of a company's decision making. Having a remote work policy and process in place will prepare your company for the inevitable increase in travel and continuation of remote work as we transition to a new normal. As you are building your budgets for the new year, consider how your company plans to tackle the remote work opportunity.
Read our article on planning for the future state of global mobility.
GTN has extensive experience in assisting companies in building and implementing remote work and business travel policies and processes. Schedule a call with our team to learn how we can guide your organization in building a policy, create automation around an approval process, and address your compliance concerns.