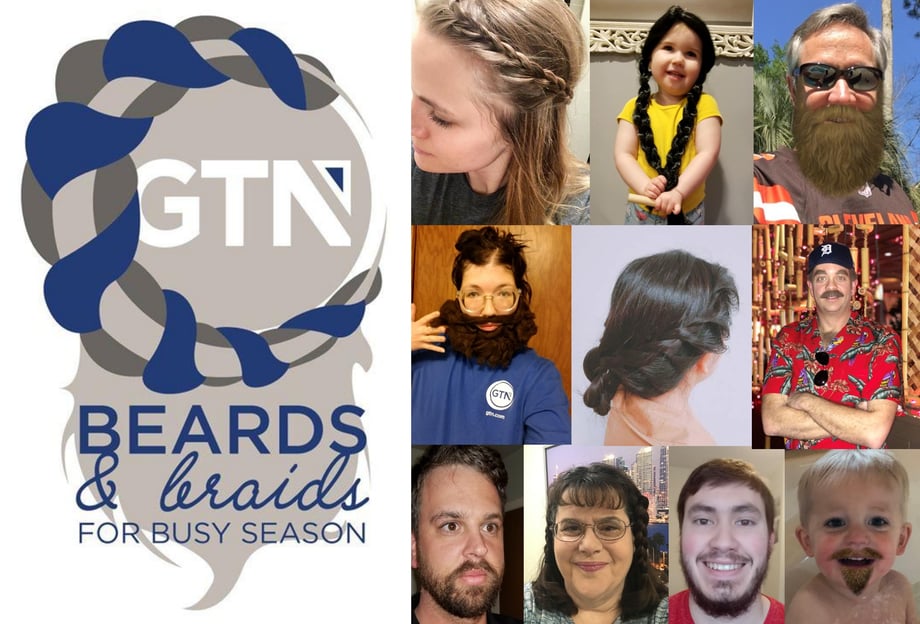 GTN's seventh annual Beards and Braids for Busy Season (BBFBS) campaign is underway!
For us at GTN, busy season means more than just preparing tax returns. It is a time for our team to come together, have fun, and support a cause for the greater good.
"BBFBS began as a simple way to encourage our team to have a little fun during this busy and sometimes stressful time," says GTN's COO/Data Privacy & Security Officer, Craig Dexheimer. "The involvement in this campaign by our employees, as well as by our families, clients, and friends has grown significantly over the past seven years; it is very exciting to see the positive influence and support this campaign continues to provide."
Since inception, BBFBS has turned into an annual event to increase awareness and provide support for non-profit organizations around the world. This year we are teaming up with AdoptAClassroom.org, a nonprofit organization with the belief that every child should have equal access to the tools they deserve to be successful in school.
"Teachers spend an average of $740 out-of-pocket annually on their classrooms," said Director of Marketing, Melissa Hruza, of AdoptAClassroom.org. "Classrooms need supplies, but it shouldn't come out of a teacher's paycheck. With your help, we can ensure that our nation's students get the supplies they deserve to succeed in school. We're thrilled to be partnering with GTN for their BBFBS campaign. Your support brings us closer to equity in education one classroom at a time."
Last year, the BBFBS campaign raised over $5,500 in support of kids and education—it's time to beat that record! With your support, we can help even more students get what they need so they can go back to learning.
All funds raised through the 2020 BBFBS campaign help support AdoptAClassroom.org and the classrooms and teachers they serve. Teachers need school supplies now more than ever and with our help AdoptAClassroom.org can bring assistance to teachers by connecting them with funding to purchase the classroom supplies and materials they need immediately.
The BBFBS campaign will run through April 15, 2020, to coincide with the Internal Revenue Service's tax filing deadline in the United States. All GTN employees, families, and friends of the firm are encouraged to participate by growing their beards, braiding their hair, and raising awareness and funds for children and classrooms in need.
If you would like to make a donation to support the BBFBS campaign and AdoptAClassroom.org, please visit https://give.adoptaclassroom.org/campaign/global-tax-network-2020-fundraiser/c273763. Your donation to this campaign will help support teachers in providing a dynamic educational experience where children learn and succeed.
Don't forget to tell your family and friends!
Follow the BBFBS initiative on Twitter: @GTN_US #BBFBS #BeardsandBraids #TaxBusySeasonIsFun #GTNevents and post your own beards and braids on Instagram: gtn_us #BBFBS #BeardsandBraids #TaxBusySeasonIsFun #GTNevents.